Historical Roots
The building that we refer to today as The Regas Building has remained a steady presence in downtown Knoxville for well over a century. Originally much larger at five stories tall, the building has seen Gay street transform from a railway to a roadway, traffic directing officers replaced by stoplights, and a passionate Regas family grow a small diner into a trademark restaurant. You'll find each of these historical scenes pictured in the gallery below, along with myriad other once lost anecdotes. Our sincere thanks to Thompson Photo and McClung Museum for their efforts to preserve this rich history.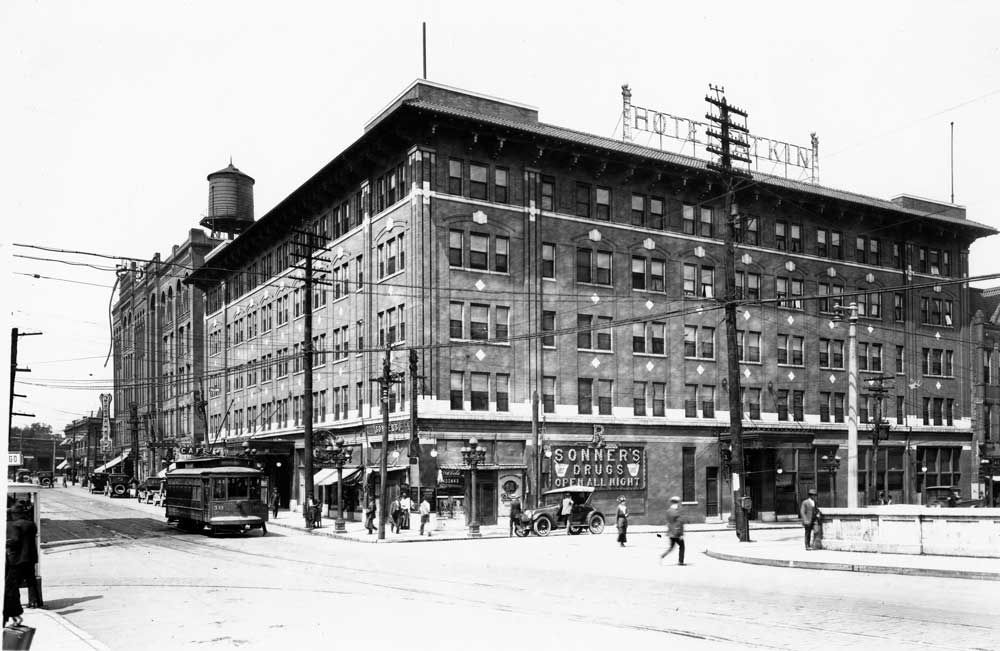 The Harris Building and Watauga Hotel
Architectural sound, the primary building pictured in the gallery would have been referred to in the day as The Harris Building, as can be seen signed at the top of the structure. This building was a multi-use facility with retail on the ground floor, offices on the second and apartments on the third and fourth floors with an Odd Fellows Lodge on the fifth. The second photo in the gallery represents the oldest picture of the building on file, and reveals an integral part of the building: Hotel Watauga. This hotel served the railroad and its many travelers as did Hotel Atkin, another hotel of simply rich history which occupied the neighboring building. Sometime midcentury the top three floors of the building stumbled into disrepair and were thus demolished. Fortunately, the bottom two floors were preserved and remain today.
The Regas Family
The Regas establishment began in 1919 when brothers Frank and George Regas opened shop. At the time, it was a small cafe open twenty-four hours a day to service the railroad's many travelers. Son Bill Regas subsequently carried the torch and continued to grow Regas into a city landmark. Over his long life, the restaurant was of course reinvented as required by new markets. A scroll through the gallery above will shed light on some of the earlier renovations to the space. Perhaps the most notable addition not pictured is that of The Gathering Place, an accessible front end to the elegant restaurant fit for conversation and good eats. This tradition has been preserved in the newly renovated space. Keeping the title of The Gathering Place, the café is the perfect place for coffee and conversation.
Knoxville Leadership Foundation
The vision for The Regas Building was formed by Knoxville Leadership Foundation (KLF) in 2014. The Regas Restaurant closed after almost ninety years of operation and the property was sold. KLF purchased the building and began an extensive, complete rehabilitation. In keeping with KLF's mission of connecting communities of resource with communities of need, the vision for this facility emerged as a space to connect people of goodwill and people of faith by establishing a gathering place where mutual learning, collaboration, and partnership could grow.
Learn More
Jack Neely wrote a fantastic article on history on this part of downtown in The Knoxville Mercury. View it below.